Since the inception of music, there's always been an album, a song, or an artist that defined that era. For the 60s it was The Beatles, for the 90s it was Nirvana, and it is without a doubt that the 2000s belonged to Marshall Mathers aka Eminem aka Slim Shady, the white guy from Detroit in the hip-hop culture. Eminem released his most trenchant, violent, and personal lyrical tirade in the form of The Marshall Mathers LP on 23rd May 2000, two decades ago. Many regard it as shock horror, a violent response to the critics who said he has nothing to say after his major label debut, The Slim Shady LP, 1999. Whereas, I consider it an unequivocal autobiography of an artist showcasing his true self to world and mirror to the society at the same time. It is indeed a problematic album when you first listen to it, but also an undeniable thrilling masterpiece.
The Marshall Mathers LP when released shattered sales record. It sold 1.76 million copies in its first week. The album went on to sell over 10 million copies in the US itself and more than 35 million copies worldwide. It is highest selling hip-hop album of all time. It is one of the 92 albums in music history to be certified as Diamond.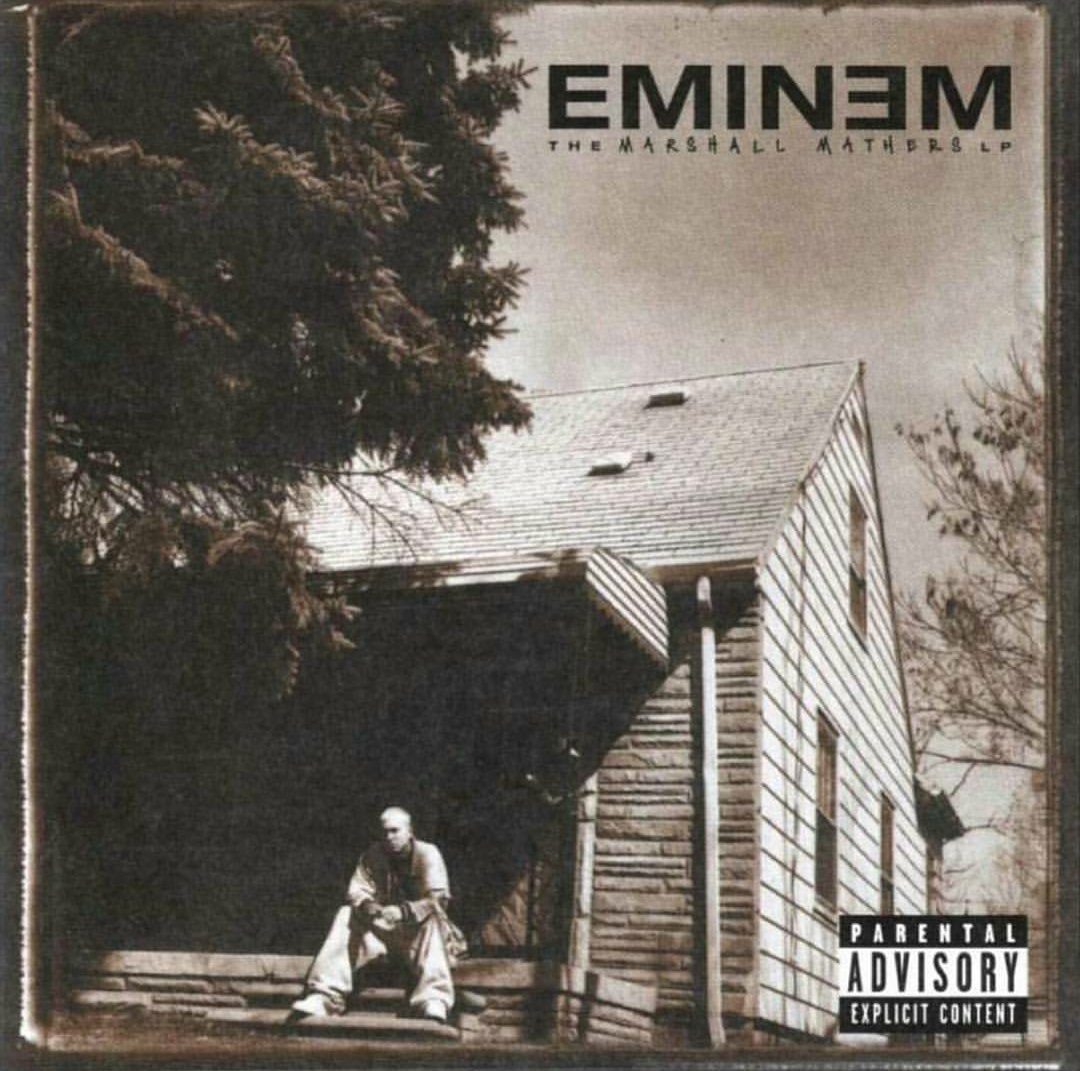 Produced by the legendary Dr Dre, the album stands as an all-caps FUCK YOU to his critics, wife, mother, and almost everyone who ever doubted Eminem. It was the first time when people actually were able to see the difference between Eminem, Marshall Mathers, and Slim Shady. When the album was first submitted by Dr Dre and Eminem to Interscope Records, the label head, Jimmy Iovine, found it one track short of a masterpiece. He knew the album was dark but a masterpiece and needed something light just like "Hi My Name Is" from The Slim Shady LP. With the pressure of release date looming around the head, Eminem came up with an anti first single, "The Way I Am." He details the pressure of creating a hit like "My Name Is." Eminem responded his label, fans, critics and everyone with the track:
I'm so sick and tired of bein' admired
That I wish that I would just die or get fired
And dropped from my label, let's stop with the fables
I'm not gonna be able to top a "My Name Is"
And pigeon-holed into some poppy sensation
To cop me rotation at rock 'n' roll stations

The Way I Am
The Way I Am became the second single for the album. He took clean jabs at the critics for blaming artists like himself and Marilyn Manson. Even though Eminem came up with this, he had to write a hit like "My Name Is." And, that's when he created the incredibly cheesy and hilarious, "The Real Slim Shady." This became the lead single and marked the return of the "Ah, wait, no way, you're kidding, he didn't just say what I think he did, did he?" He made fun of pop stars with his intricate rhyme schemes and cleared the fact that it will definitely be impossible for the world to find another him and which is true until this point.
The Marshall Mathers LP is definitely Eminem's best work. It begins with Public Service Announcement followed by Kill You, belligerent, outrageous, laughable, and crude at the same time. Eminem explained the reason behind the song in his book Angry Blonde, "he whole idea of this song was to say some of the most fucked-up shit. Just to let people know that I'm back. That I didn't lose it. That I wasn't compromising nothing and I didn't change. If anything…I got worse." The vice-president's wife, Lynne Cheney, even advised calling age-restrictions on Eminem's music after citing lyrics from the song. However, Kill You is an openly honest track, often labelled misogynistic, with rapid fire flow and a chorus, that is a trademark of any Eminem concert.
The title track of The Marshall Mathers LP, Marshall Mathers, is one of my favorite Eminem tracks of all time. Defining how people, including his mom, Debbie Mathers, his estranged father and siblings, and Kim's family came to him with open hands after the success of The Slim Shady LP. He is also vocal against boy bands and takes a shot at NSYNC. He was labelled homophobic for his excessive use of the word, f****t. The track has a laid back vibe with scathing lyrics. It is definitely the most introspective song on the album.
On the song, "Who Knew," Eminem takes shots at critics and people who blame him for saying outrageous things. However, Eminem defends himself with his genius and clears that music is not to be censored. It is an art form just like movies, where people enjoyably witness killings of people. Slim Shady is at his provocative best in this song.
Eminem had a lot to say in The Marshall Mathers LP. He expresses his feelings towards Jennifer Lopez, in the fourth single, "I'm Back," by rapping: "I'm sorry, Puff/But I don't give a fuck if this chick was my own mother/I'd still fuck her with no rubber." Eminem's intricate ability to rhyme using metaphors is on full display on this genius of a track. The song has an unforgettable chorus that I still vibe to almost regularly.
But Eminem wasn't done there. The album's third single, Stan, is regarded as one of the greatest storytelling tracks of all time. This is also the first Eminem track that I listened to and holds the place for his best song of all time for me. In the song, Eminem takes both sides of the coin, as an obsessed fan who takes Slim Shady's art seriously. And also of Marshall Mathers, who offers Stan with some pieces of advice, although it's too late. The song is a pivotal moment in Eminem's career. The word "stan" was added in Oxford Dictionary in 2017. It is the word that world uses to recognize obsessed celebrity fans.
The song also gave the world with one of the most iconic performances in history of music at Grammys. Eminem teamed up with openly gay artist, Elton John, to perform Stan. He did this to cancel all the rumors of him being homophobic. They both hugged on the stage, and Elton raised Eminem's hand to prove: how can he be a homophobic person with a gay friend? It was definitely iconic. Stan is the light and dark that shines throughout the album.
Talking about dark, there's no track that can surpass, "Kim." I haven't heard a track so violent yet so emotional. If I talk about its darkness, then it is Stan on steroids. It is Eminem's love song, however, tough for some people to swallow. He paints a picture of murdering his daughter's mother, Kim. My jaw-dropped when I first heard the track, and still to this day, I wonder how was he able to record this. I get chills while thinking about the recording session.
The Marshall Mathers LP ends with "Criminal," a song that sums up Eminem's just don't give a fuck attitude. He explained the meaning behind the song in The Angry Blonde, "Criminal was my new "Still Don't Give a Fuck" for The Marshall Mathers LP. That's why I did the same intro as I did on the "Still Don't Give A Fuck." That's why–just like "Still Don't Give A Fuck"–it's the last song on the record. It sums up the whole album." He even clears the fact that parents are responsible for a child's behaviour, not him, so stop blaming him.
The Marshall Mathers LP is not just great because of its content, but also a lyrical genius of an untoppable hip-hop artist. Eminem didn't repeat his flow patterns. He changed his voice as per the songs. He gave the album his everything. It is definitely Em's best work. A work of a genius tormented in his own mind. For me, it is the best album I've ever listened from an artist. It is a harrowing deal for some people to listen, but still, they cannot deny the craft of Eminem and his ability to put words together. So are you still listening to The Marshall Mathers LP 20 years later? Well, I am and I will forever.