I know, I know, you must be thinking that the Navratri is coming to an end and we are presenting you with a list of places that are offering lip-smacking thalis this late! But, they say, it is never too late and especially when it comes to trying out the food. I love thalis especially the elaborately set up ones. Who wouldn't? There's so much food in one place for you to gorge on. 
Many restaurants know that during the Navratri business can slow down given the limitations everyone's diet constitutes of, however, there are establishments that monopolizing on this. The end result? Delicious food! 
If you live in Delhi or Mumbai these are the places you must try before the Navratri end! 
Delhi:
Punjab Grill
Everyone is aware of this sophisticated eatery that has satisfied plenty of tastebuds in India. And why should they be left behind during the festivals? At Punjab Grill, you can choose to eat from a wide array of selection such as Chironji Ki Dal, Sabudana papad and Samak ka rice. These lovely people are offering these dishes across all their branches in the country. 
Soda Bottle Opener
Many people swear by this Irani themed and styled restaurant that is slowly but steadily gaining traction across the terrains of India. If you are near one, you must go and try there Navratri special thalis that offer dishes such as masala makhana with sukhi masala arbi! Now, who would have thought of that combination!
Mumbai:
Masala Kraft, Taj Mahal Palace
The famed Taj hotel in Mumbai is offering authentic temple food and Odisha cuisine that abides by the dietary requirements of Navratras. Masala Kraft is known for its scrumptious food and we are sure the temple food offered by them will be no less!
Manuhaar, Sahara Star Hotel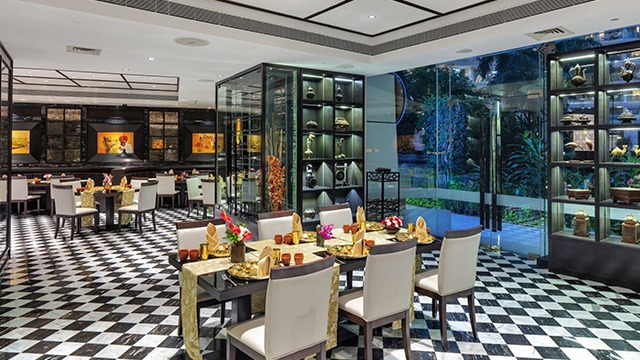 Have you ever eaten Pumpkin Kheer or drank Chickoo Juice? No? Well then get up and go to Manuhaar that is offering these delicious thalis that are already making me salivate. Who said, that Navratras food has to be boring, right?!